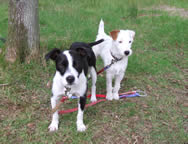 Selma and Patty in the early days with Rachel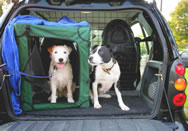 Patty and Selma in October 2007 after a training session with Dr Sands in Astley Park Chorley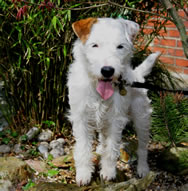 Patty photographed shortly after coming to live with Dr Sands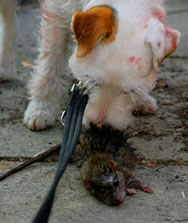 Killer Patty with rat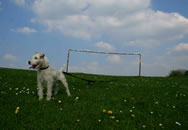 Patty tethered by a lungeline to ST Chads' School goal post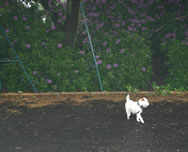 Patty in the tennis courts with lead attached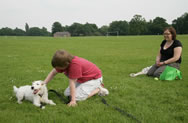 Patty, Max and Rachel in a May 2008 lungeline session Astley Park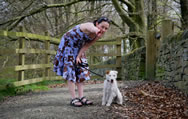 Catherine with Patty points to the camera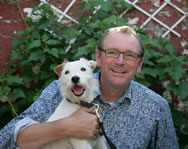 Dr David Sands with Patty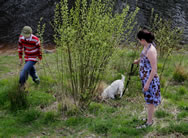 Patty digs at the reservoir with Catherine and Max
PATTY'S STORY - DEAD DOG WALKING (Dr David Sands tells the story of a rescue dog now called Patty found stray on the streets of Salford Manchester and saved from euthanasia).

This is a story about a Patty or Penny. Name changes not to be read as a deliberate attempt to protect her identity but to reflect her multiple ownership and that she has taken up at least one alias in the last year. We call her Patty and she is a tri-coloured, Parson Jack Russell Terrier bitch; although the idea that one brown and one speckled ear and a wiry bright white coat is pushing the three colour thing a bit. Patty looks like a dog that a television chef might take around the world with him. However, instead of finding fame, she started her latest chapter of life as Penny in Leigh Dogs and Cats Home and was homed to a Rachel (a client of mine) about a year ago. Well, that was until she telephoned and tearfully announced that Patty, after months of being treated under a Behaviour-modification Program, was fast becoming a candidate for euthanasia. A decision reached by her latest owner because Patty, soon to be three years old in June, is a canine schizophrenic.
Patty's problem is that one moment she's a delightful dog, the kind that would show calm fidelity at your feet and the next, she's a total nutcase. If she gets the slightest sight, sound or smell of what appear to be her nemesis, the CAT, then her canine Tourette's explodes into a swearing screech. I needed to see her behaviour to be able to describe it.
I love my dogs
Most days she is an endearingly photogenic dog any animal rescue centre could use to drum up a bit of fund-raising. However, when Patty takes on a different persona she displays signs of Multiple Dog Disorder. In one personality, Patty has the ability to take on the demeanour of a miniature Rottweiler and is then able to leap very high walls in a single spring. She can spin her body sideways in any direction like a rattlesnake and, in shades of the 'Incredible Hulk', this canine psychopath can break free of normal collars and nearly pull a human arm out of its socket.
During one of an initial analysis session in 2007, Rachel explained enough about Patty for me to know the dog had a fixation about getting at 'things'. Rachel listed Cats, Horses, Cows, Sheep, Some but not all Dogs (often very large ones) Squirrels and any other little living creatures like ducks and other birds. Oh, and anyone in High Visibility Jackets or Window cleaners or Postmen and newspaper boys – even on street in the distance - and any Person who has the audacity to shuffle feet when they walk!
Rachel first came to my clinic (about ten years ago) to obtain treatment for her dog Archie, a Bernese-Collie cross who had suffered the canine equivalence of a nervous break down. Archie was a decent basket case in comparison to Patty. But Rachel actually loves dogs. She must do. Looking after Archie long term not only involved her selling up house and moving back home (at least twice) to live with her parents but entailed her spending of thousands of pounds dealing with the Madness of King Archie. Rachel has to be compelled to love dogs because, no sooner had her beloved Archie gone to the hunting and foraging place in Dog Heaven she strolled out of the rescue centre with two new dogs (temporarily named Penny and Petra) she playfully christened them Patty and Selma. Within the first month it became abundantly clear to her that both dogs had plenty in common with the Simpson sisters after whom they were named. As an expert on canine disorders by default Rachel knew she needed professional help for both dogs.
At this juncture it should be explained that is not at all uncommon for 'rescue dogs' to display behavioural issues and most of the standard disclaimers offered by centres point this out. This is because these dogs have usually experienced some form of dysfunctional socialisation at the litter-stage and have had to undergo one or more changes in ownership. Any kindly soul offering to home a dog from a rescue centre is taking on the canine equivalent of a foster child. Unfortunately these foster dogs are without the brain power comparable with an infant baby. Owners of re-homed dogs also take on an animal with an unknown past which can mean these pets may have undergone a repeating cycle of being loved and dumped. Mostly, these dogs come with owner-attachment fears meaning they can be destructive during separation periods and may display stress-related toileting inside the home. Some dog breeds may also be territorially disorientated and display fear-based aggression. Any antisocial behaviour has to be put with or treated or these dogs come with a return ticket back to an animal rescue shelter or euthanasia. If every human with a psychological condition was put to sleep or re-homed we human animals would be returning to Hitler's ideology.
Don't leave me
Just for the record, the Terrible Two displayed lots of psychological signs of stress (animals can't have symptoms because a discussion is not possible) such as Owner Separation-related Disorder (anxious when left home-alone), Canine hyperactivity (Olympic-style jumping up and running around like crazy), Obsessive compulsive Disorder (compulsive licking and the acute fixation already mentioned) and Intraspecific (dog v dog) aggression together with fear-based (stranger) aggression. Selma, a hyperactive Collie-cross and Patty the psychotic Terrier, both displayed all the signs of canine ADHD. Rachel, like the failing mum calling Super Nanny, contacted me. She recognised her dogs were in desperate need of third party Behaviour Counselling. Contrary to the media overuse of the Dr Doolittle Syndrome it is not possible to bend the ear back of a dog and sort out its issues like human patients undergoing Cognitive Behaviour Therapy.
My treatment for calming disturbed dogs did have some positive effects but after 6 months it had woefully failed to deal with Patty's compulsion to run due to the fact that she has a phenomenal flight or fight drive. Having seen it for myself, I can describe it as an emotional detachment combined with acute fixation once her target or escape-possibility comes into her view or mind. When she is racing away, Patty hears nothing and responds to no one.
The day her owner, Rachel actually cried while talking me on the telephone was when I knew that I would have to put my expertise where my mouth was. This meant taking 'Potty Patty' into my own home. The one major stumbling block with my (impulsive) decision was that my wife, Catherine, a forensic scientist, has been dog phobic since being bitten as a child and as a teenager. To her all dogs are 'killers'. We talked and finally decided that Patty was just like some dysfunctional, disrespectful teenager in need of an animal ASBO and a strict boot camp. If she came to us, Patty, Dog Prisoner Cell Block H, would not be allowed in our house. My son Max and I would have to do all the walks and any dog-poo-bagging and if these conditions were met maybe we could try for at least three months to change her madness. A Magistrate for dogs might order Patty to undergo psychological assessment before considering the length of her sentence but there's not a court for condemned dogs. Being a Buddhist, I knew that there was karma in saving Patty. However, taking everything into account so far, it could mean that in my next life I will be one of Rachel's dogs.
Name that dog?
So, Patty came to live with me and my family. The first few weeks with her became a real learning curve. Almost all the village neighbours and friends cheered us on from Sue, the post mistress, to Terry, the pet friendly postman. Our family friends still cannot believe Catherine will have anything to do with a dog. If they could have heard her suggesting that Patty should come indoors in the evenings to 'calmly associate with us' they might have thought the world was going mad.
A personal favourite moment came about in the early weeks when I became convinced that if only we knew her original name she might respond to our calls. We laughed together going through the phonetic alphabet sat outside the Hare and Hounds pub to enjoy an after-lunge-lead session pint. We sounded an alphabet series of names to see if Patty would respond to any in particular but she only had 'nose' for everything else in her personal universe. Not a single catchy name we offered up, including those based on soap stars, pop groups and Manchester football legends, touched her poor attention span.
Back at my home office I telephoned PETrac who have Patty listed on their microchip database to see if I could find out more. Richard, a very helpful man, could only tell me (Data Protection) that she was first registered by a Pet Shop in Manchester in June 2005 (which explains a great deal) and that area was the same as where the first owners lived. The rescue organisation had already advised she was handed in from the Salford area by a dog warden. Richard even tried calling the mobile number her owner had recorded for contact but it was no longer in use. That left us wondering if the first owners ever missed her of if the rescue centre had tried but failed to locate them.
Patty could have been used as a working ratter because she can smell them a mile off. Amongst all the other nicknames Patty has become known as a 'crack addict' in our house because she sniffs madly in the cracks of the stone flags that cover an underground drainage pipe. We do have a rat issue in this neck of the woods and I have been humanely trapping and releasing them a mile away for many years. However, Patty in her professional capacity had to hunt them down. When she caught one she despatched it in a second and instantly became Catherine's best friend.
Home from home
Now that she lives with us I have decided that Patty is becoming a huge challenge to me professionally. I have also noticed that many of the rules I ask my clients to follow with their dogs are not easy. The other morning, as I was walking along day dreaming, Patty lurched into a garden hedge and came out with a cat attached to her teeth and both were willing to fight to the death.
Notwithstanding her alter-ego tendencies, I have also had to come to terms with what a cuddly dog like her can do! Carrying a nappy bag weighted down with faeces is an interestingly experience to me. I grew up walking dogs through fields and woodland where it was not necessary to consider what others might tread in. During several end-of-the-night walks I have wondered if any potentially watching person knows the difference between a dog and a bitch. When Patty is squatting for a wee this occurs to me and I tend to pull out an obligatory plastic bag to counter any potential accusatory stares.
One weekend, sitting in our small back garden with Patty in the evening sunshine, we found ourselves smiling to each other watching her supposedly enjoying a moment with us on the decking (having sensibly tethered her to the rotatory washing line pole). In reality, she was in the process of casing the wall height in our terraced house garden. No doubt planning a future escape or to reach the unsuspecting sheep and spring lambs idyllically grazing and baaing in the back field.
During this period of reflection I came to a conclusion that my much trumpeted clicker-system appeared counter productive in Patty's case as it possibly encouraged her hyperactivity. I decided to use a training whistle with her for recall and linked its sound to lunge-line sessions. I insist on this system for my clients to help them motivate their wayward dogs when they are displaying selective-recall. I can see now that the whistle doesn't necessarily work for every dog, one of many aspects of my work that Patty has caused me to review.
Happy Hours
After the first six weeks Patty appeared to develop a calmer persona and we began to relax the 'she must be tethered at all times' rule. It seemed a shame to have her tied up especially when she was sleeping in her den or resting in our lounge. This complacency was challenged one morning as I sleepily prepared her for an early walk without thinking she not tethered. I had also broken another rule and left the garden gate ajar. Helplessly, I watched as Patty shot through the open gate and down the path into next door's garden where she attempted to vault a back wall. I followed. She quickly picked up the momentum of a runaway train in response to my calls and then all I could see were her back legs skipping back as she raced, happy-dog style, down the road. She ignored the school children with parents and instead chose a sharp right path leading to a place behind our home we call the wasteland. This disused quarry is a wonderful ecology of miniature shrubs, reed beds and soft sands valley, surrounded on three sides by hillside slopes of brambles and trees. It probably represents an adventure playground for dogs. I promptly wasted an hour tracking and calling her but every time I stumbled upon her, Patty displayed all the learned skills of a dog that had been chased after many times. Maybe this is why her first owners disowned her?
Watching as she disappeared in the opposite direction to me, Patty was always in continuous running mode. As soon as she caught sight of me, she took evasive action with her head held up in the air, like a wild stallion avoiding capture. I found it useless to call her name or to use a whistle because both methods simply gave my position away and caused her to backtrack.
After an hour I returned home for a necessary rest but, after a brief respite, this time I stalked her in a style not dissimilar to that of a North American Indian graphically illustrated in Hollywood films. Crouched down next to shrub cover, I listened until a distinctive crash in the dense undergrowth gave away her new position. I didn't call out to her but just waited in the hope of being able to ambush Patty if she came close by. However, having missed my one chance, she proceeded to charge up the grass slope in the direction of an adjacent field of sheep. At this point the chase became serious as I anxiously tracked her in the hope that I would get the opportunity to grab a hold of her collar. Each time her route back into the wasteland was blocked by me and so she headed along the fencing and closer towards the sheep and lambs. I scaled barbed wire fences as fast as I could. The sight of Patty, in full flight and yapping as she chased a ewe spurred me on. I had to break out into a sprint as the hill top blocked my sight as they disappeared from view.
When I finally made it over the rise and into the field where the flock grazed, I was incredibly relieved to find that Patty had finally paused to give me a chance catch breath. After the briefest of interludes, moving stealthily step by step, I finally shepherded her into the farm yard. She was still working hard on avoiding capture when I noticed her sneak through the open door of a large wooden shed. As I entered, I was confronted with the macabre body of a headless sheep. My immediate thought was that Patty killed it before common sense made me realise she hadn't the strength nor the opportunity time to take the head of an adult sheep. When I finally pulled a livestock gate shut behind me at the back of the shed, she almost meekly surrendered. Relieved more than anything else I clipped on her lead, saying nothing, and calmly walked her home.
Aversion therapy
It was a full week before I recovered from the trauma of her escape although I must confess that I gained pleasure from telling all and sundry about Patty and the headless sheep. I knew I had to come up with something that would interrupt her in full flight and, apart from nasty cruel shock collars banned by behaviourists in the UK, I could only think of one other accessory that could change her behaviour. This involved the use a remote-controlled citrinella scent-collar, a product used in my work when dogs are livestock-chasing or displaying aggression towards other dogs. It can also be used for inappropriate scavenging (carcass/manure/faeces) and, as in her case, for dogs that run off.
We decided to try the collar with a mustard refill instead of the citrinella because of the acuteness of Patty's fixation. Rachel explained that a local park tennis court perimeter fence had been repaired and therefore useful for recall-training with the special collar. It did the job once she had worked out that escape was futile. The warning beep of the collar went unheeded but when the mustard spray was set off Patty came back to our whistle and we gave her lots fuss and cuddles. This system must be the way forward.
The great escape
We are in the third month and Patty is coming into the house more and more. She has even sat on my knee a few times but Catherine frowns and then wants Patty to sit on her knee too. Max has also enjoyed knee sessions but we are all afraid of making her form an attachment that will then see her become stressed during separation periods. In our lounge, she will lie down and relax in her dog tent as we watch the Euro football. Only the occasional surprise noise or knock on the door seems to make her jump into action. Once Patty saw what must have been an imaginary rat and she hurtled out of the tent in full charge straight from a sleeping mode.
One Friday night after a home visit session with a cat client, I set out to give her a late night last walk. In my tiredness, I dropped the lead on her first test pull and she ran off down the hill towards the village. As I jogged after her with little enthusiasm, she completely surprised me by appearing on the opposite side of the road running back up the hill in the opposite direction to me. It was another cartoon moment. She quickly disappeared from sight and I went home for the car while Catherine and Max forlornly walked around the village.
We eventually went to bed and wondered if anyone would hand in a good looking dog still attached to a lead and obviously on the run from dog borstal.
At about three thirty am that morning I awoke from a strange dream to the sound of a dog barking in the distance. I got up and listened from the open bedroom window. The barking came from the hillside above our home. There was more than one tone of bark, one sounding deep from a large dog and another sounding sharper like a smaller dog. I wondered if Patty had hurdled into someone's garden and had disturbed the house dog. I quickly dressed and got into my car. It seemed a tiring thing to do in the middle of the night but as I had been guilty of letting go of the lead it was only right that I had to make to effort to recover her. I drove around the village, periodically stopping the car in order to listen out for any barking. I had hoped to use the barking to get a direction but the air was silent. At one stage I walked onto the wasteland, the quarry area at the back of out home, wondering if she might have returned to her previous stomping ground. I was met with more damp silence. With that I turned the car around and went back to the main road in front of out home where I heard the barking on the hillside again. Driving on the lane to the top of the hill, I parked up outside the church, scaled a gate and walked down the fields, littered white with bits of sheep fleece and wet with morning dew. Crossing a barbed wire fence into a meadow field, I clearly heard the barking which occasionally turned into a whine. I somehow knew it was her. As I tracked down the edge of the field parallel to a high-ish livestock-proofed wire fence (probably erected for the benefit of the homes by the lane I had just driven past) the whining mysteriously stopped. Puzzled, I walked further through the long grass and then doubled back until I heard her again. Finally, I caught sight of a wet white bundle of fur and her sad coal black eyes. On closer inspection I realised that the fabric training lead had become entangled in amongst a dense thicket of tall holly bushes. I hurriedly untangled her lead before carrying closer to the wire fence. She gratefully licked my face. I figured that she had run into the fence from the other side, turned back and in doing so became trapped. I wondered how long she had been trapped after her escape and just far she would have got if the lead hadn't made her a prisoner. As a precaution, I tied her lead to a fence post before passing her over. As I climbed over to join her, even in that short time, she had managed to lunge at a fledgling bird that thankfully escaped in the confusion as I landed heavily in the field. I trundled back up the long sheep field towards my car feeling lucky to have found her as the dawn chorus started.
Home and back under the duvet I told my wife, who had slept through my nocturnal adventure, 'Patty's back'. Catherine now reckons that I am as feral as the dog. 'How did you know it was her?' She asked.
Now, every walk has her on the training lead attached to my belt which means she will have to whip my jeans off to escape. It's going to be a long, long summer.
Draft 18 June 2008