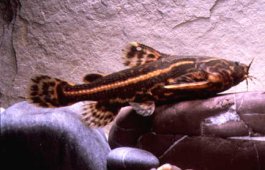 Dr David Sands -Dee Bee Books/AquaEco
127 Blackburn Road, Heapey, Chorley, Lancs. UK PR6 8EJ
Telephone/Fax:01257 249960 (Email, drdavidsands@aol.com)
Catfishes of the World loose-leaf limited edition series (retail list)
Volume 1 RRP: £35.00
with three available supplements(save £5) RRP: £55.00
The most serious work on the family Callichthyidae published including aspects of biology on Corydoras and relatives Brochis and Aspidoras and the larger relatives Hoplosternum, Callichthys and Dianema.
Volume 2 (Currently out of print)
Volume 3 (less than 30 copies left) RRP: £45.00
with supplement (save £5) RRP £50.00
South American 'big cats' such as Red Tails, Shovel Nosed and Pimelodus types. Driftwood catfishes are also pictured and discussed along with aquarium care.
Volume 4 (less than 30 copies left) RRP: £60.00
with supplement (save £5) RRP: £65.00
The largest volume of the series (300 pages - hundreds of full colour pictures and illustrations) covering three major families of South American catfishes - from the loricariids (suckermouths), Banjo and Talking catfishes groups including sailfins, whiptails and plecs.
Volume 5 RRP: £40.00
All the strange and weird catfishes from Asia, Africa, South America and Australia including shark cats, Chaca Frogmouth, Mystus, electric cats, walking cats and North American bullhead cats and more.
Paperback Volume 5 special price for 2007 £20.00
*Looseleaf supplements (updates)
All supplements below: RRP: £10.00
Volume one, supplements 3 & 4 (1&2 out of print)
Volume two, supplement 1 and 2
Volume three, supplement 1
Volume four, supplement 1
1990 Supplement pages covering Volumes 1 to 5 RRP: £15.00
*Postage and packaging on supplements £1.50 each
PREPAYMENT OF ALL BOOK ORDERS IS REQUIRED BY CASH or postal order (REGISTERED MAIL) OR BY A CHEQUE PAYABLE (to Dr David Sands) (OVERSEAS ORDERS - PAY PAL OR THE CHECK MUST BE PAYABLE AT A UK BANK - MOST BANKS HAVE ARRANGEMENTS WITH UK BANKS). Cash orders are despatched same day - cheque orders after five bank days.