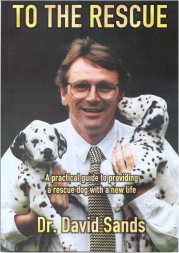 To the Rescue 'Dogs' currently is the only book written and developed to help keepers deal with rescue or re-homed dogs suffering from behavioural problems (ie separation distress, destructiveness, inappropriate urination and defecation and aggressiveness towards people and/or other dogs and not settling in etc).
To The Rescue is intended as a practical guide for anyone who has or is thinking of taking on a rescue or re-homed dog. The guide is a needed source of helpful and expert information. The book is available for £10 (p&p included - payable to Dr David Sands).
Special 2008 Offer - Only £6.00 (inc. p&p).
Order your books from the Animal Behavioural Clinic, 127 Blackburn Rd, Heapey Chorley, Lancs PR6 8EJ 01257 249960
SPECIAL OFFER TO DOG RESCUE CHARITIES OR THEIR VISITORS
The books are available in shrink-wrapped packs of ten without a marked RRP (= £10).
Each pack of ten books is £45.00 including post and packing (payable to Dr David Sands). One book £10 or up to five books @ £7 (5 = £35)