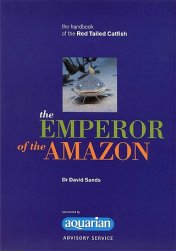 The Handbook of the Red Tailed Catfish 'Emperor of the Amazon (Phractocephalus hemioliopterus)' by Dr David Sands
New Updated 2005 version
Everything an owner wants to know about keeping this wonderful 'giant catfish' in captivity including special chapters on:
Habitat (Amazon to the aquarium)
Aquarium Care (filters, heating lighting and aquascapes etc
Large fishes - Trouble-Shooting (including companion fishes),
Health Care (diagnosis and treatment),
Amazon Catfish Ecology
Essential information chapters on Feeding (how much, how often), Aquarium Maintenance and much more!
The handbook is introduced with a special essay by Michael Goulding, of the BBC's Flooded Forest programs. This work extends to 22,000 words and includes an extensive index (which means the reader has a fast source for the information).
The book is published in an A4 spiral bound format and includes superb colour pictures and unique feeding and size charts.
This is a Limited Edition Book RRP £40.00 plus £5.00 p&p (UK) overseas postage rates: £15.00 airmail.
A new 1999/2007 CD ROM version of 'Emperor of the Amazon Enhanced information with extra text on fossils, hybrids, a swimming-pool group including many new pictures and video footage - is now available with a retail price of approximately £35 or roughly $65 (overseas send a check payable in the UK by your bank in sterling for £45 which includes postage). Soon to be in stock (February 2007). UK p&p £5 Europe and USA airmail-postage £10
PREPAYMENT OF ALL BOOK ORDERS IS REQUIRED BY CASH or postal order (REGISTERED MAIL) OR BY A CHEQUE PAYABLE (to Dr David Sands) (OVERSEAS ORDERS - PAY PAL OR THE CHECK MUST BE PAYABLE AT A UK BANK - MOST BANKS HAVE ARRANGEMENTS WITH UK BANKS). Cash orders are despatched same day - cheque orders after five bank days.